TSPE - Transport Stream Packet Editor / Analyser
TSPE Professional Version 0.810 (15/12/09) Alpha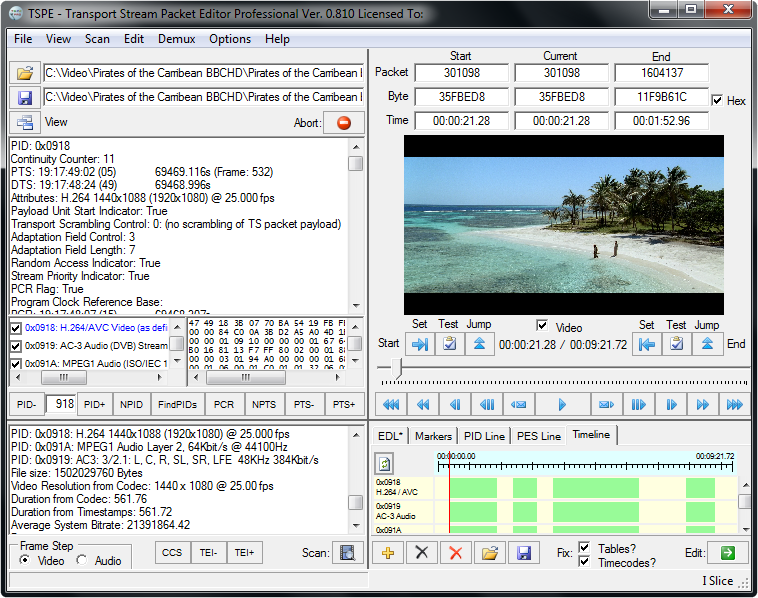 What's New?
Windows 7 Support
The screenshot above was taken on Windows 7 Ultimate x64 with TSPE running in 64-bit mode.
GUI Update
New icons for buttons, icon for main application.
Transport and Stream Navigation Buttons can now be customised by right clicking on the buttons and selecting the buttons you want to view.




Timelines
PIDLine

Shows distribution of packets according to PID.
Above shows Video packets in blue, audio packets in red, table packets in grey, PCR packets in black.
Marks above the PIDLine show the start of an I-Frame, marks below show the start of an audio frame, table, Video P frame or B frame (smaller).
Useful for Muxer analysis.

PESLine

Clickable timestamps for the main video stream in stream order or presentation order (Sort).
Can view actual timestamps or relative timestamps.
The GOP order can be seen and used for deciding start and end points.

Timeline

Current File timelime.
Double click a segment to load into main viewer
Double click inbetween segments to test the edit point between two segments
Double click extreme left / right of all segments to test start / end point of first / last segment
Click on the Timeline itself for direct jump access.
The Timeline is overlap aware. Simply change an edit point and click the Add button and TSPE will automatically update an existing EDL entry if there is an overlap.
Comskip / ShowAnalyser Import
Items are added to the markers list.
Double click a marker list entry to jump to that point.
Application Setup and Uninstall
TSPE now has its own installer which includes an evaluation licence if an existing licence is not found.
The uninstaller has an option of removing all TSPE settings.
Update Checking
TSPE can now automatically check for updates by choosing your desired frequency: On startup, weekly, monthly, manual or can disabled.

TSPE will check a version file on the TSPE website; no data is transmitted.
Enhancements and Bug fixes!
Table editor improved - now fully supports files which do not have a PAT or PMT.
Improvements to header decode.
TSPE temp licence can now edit .m2ts files.
Bugs in Resync now fixed.
Plus Many others!
TSPE Professional Version 0.813 (08/07/10) Alpha
Licence System more stable - Full licence holders will need to reactivate for versions 0.810 and lower.
Import / Export EDL improved.
Setup now determines if Microsoft .NET Framework 2.0 needs installing and downloads and installs it automatically.
Setup now determines if Haali or FFDShow are not installed and gives the option of downloading and installing them automatically.
Minor Bug Fixes.
TSPE Professional Version 0.815 (26/05/12) Alpha
Online Re-Activation System - Full licence holders will be able to reactivate online (limited use).
Stability much improved over 0.813.
PTS Scan gap tolerance improved.
Number of scan errors limited to prevent crashes.
Minor Bug Fixes.