TSPE - Transport Stream Packet Editor / Analyser
How Tos:
Direct Show Control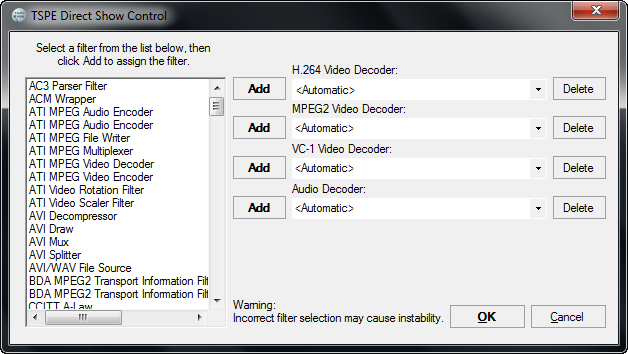 Direct Show Control allows you to override the default Direct Show filters Windows selects and uses when displaying video in the Video Preview Window. You can specify which Direct Show Filter to use to decode each type of video and audio.
Select "Direct Show Control" from the "Options" Menu: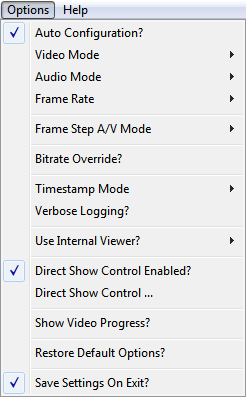 For each video type you want to override:
Select the filter you want to use from the list of filters.
Add the filter using the Add button for that type of video.
For example, to use FFDShow for h.264, select FFDShow from the list and then click the top "Add" button to add it to the list of h.264 filters: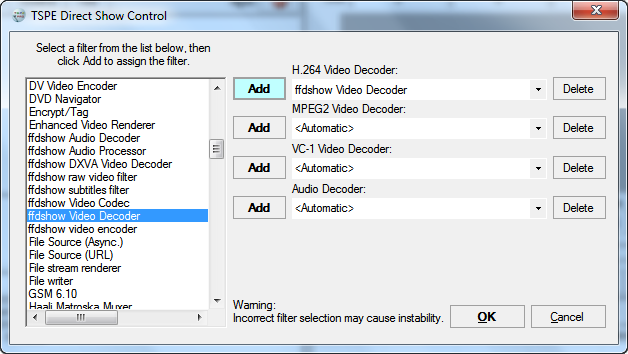 Multiple filters can be added for each type of video to allow fast selection or comparison of filters. You can select which filter to use by clicking the drop down arrow on the left of the filter name.
You can delete filters from the drop down lists by selecting the filter from the drop down list and then clicking the "Delete" button to the right of it.
Please note that you can cause your system to be unstable if you select the wrong filters for a video or audio type.
Once you have made your selections, click the "OK" button.
You must Enable "Direct Show Control Enabled?" from the "Options" Menu to start using your custom direct show filter selections: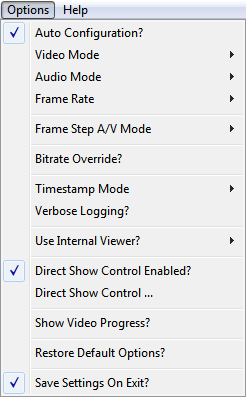 If TSPE is unable use your custom filter selections, TSPE will then try to use the default automatic Direct Show Filter selection that Windows provides.
You can test and start using your new custom filter selections immediately by unchecking and then re-checking the "Video" checkbox under the preview window.